by Cristina
|
Last Updated:
November 6, 2018
You want to know what October- December feels like for me? Well it feels like I jumped onto a treadmill to do some mild exercise and midway through someone started bumping up the speed on me and I cannot jump off.

You know exactly what I mean.  You have finally convinced yourself that running on the treadmill is a good idea.  So you begrudgingly jump on, and start out at a brisk jog somewhere around a 5.0.  You can do this all day.  Just play a little Beyonce and the time will fly by in no time.

Cue Halloween.  First it was getting three different Halloween costumes, plus figuring out what they can wear to school for the "character parade".  Suddenly I'm bumped up to a 5.5 and we still need to take them trick or treating.

Alright we got this, 5.5 on the treadmill and we have survived Halloween.  I look at my calendar and see Thanksgiving is a week early this year- and I'm now on a hard run at 6.0.  I love Thanksgiving! It's my absolute favorite holiday, so why does it feel like I'm now starting to sprint- who the F turned me up to a 7.0. Oh- I did.  I for whatever reason volunteered to make the turkey for not one but BOTH of my daughter's classes.  Apparently I'm a masochist.

December 1 is my son's 5th birthday- there's the 7.5

Plus all these stores with their Christmas countdowns- are they trying to get me to go on anti-anxiety meds- because I will! I don't need to know when there is 100 days to Christmas- I live with 3 tiny mutants who constantly remind me it's coming. Now I'm sprinting on an 9.0 and I cannot get off.

On top of all this I am still somehow expected to continue to help my 1st grade daughter with her homework with both of our dignities in tact.  I must still be a good wife, daughter, sister and friend.  Plus I'm supposed to shower.

Remind me to never get on a treadmill again.  To all of you out there who are also sprinting- we got this.  One step at a time.

I rounded up some HILARIOUS videos about voting along with some other headlines to distract us for all this sprinting we are doing.

xx
Cristina
Rock the Vote 
Today is the day! The day that all of these really annoying commercials and attack ads will stop and let us be for about a month before campaigning starts for 2020.  Also ifNikki Minaj and Cardi B can call a truce… isn't it about time we all just get along?
On a quick serious note, no matter which side you land on, I hope you vote today or found a time to early vote.  There are a lot of things happening right now, and we can't afford to sit this one out.
Pete Davidson (you may know him as the guy who was engaged to Ariana Grande for a second) broke down some of the midterm candidates on SNL this week.  For anyone on the fence- this won't help at all but it's hilarious.
For any Democrats feeling like they got this in the bag or Republicans wanting to laugh check out THIS video or click the image below.

If you think Pete Davidson is as funny as I do- check him out HERE breaking down his thoughts after Kanye had that recent breakdown a couple weeks back.
Sexiest Man Alive. Praise be, Idris Elba has been named the Sexiest Man Alive. Check out the full article HERE.

All Hail, Jenny From the Mother F'ing Block. She's turning 50 and looking better than ever.  Also she found a new green dress to spark controversy in. Check out her interview with Instyle HERE.

In the Shallow.  If you are still thinking about this movie (A Star is Born), as I would imagine most of you are- I have good news.  Now you too can achieve Bradley Cooper's dirty cowboy look.  Click HERE to rock his look.
Did You Get The Shoe of The Season? Post Malone has released a collaboration with Crocs and before you judge- it sold out in 10 minutes. His AP ain't the only thing goin' Pyscho. Full story HERE.

Tell Me What You Want What You Really Really Want.  Spice Girls Reunion Tour has officially been announced.  All your favorite spices Sporty, Scary, Baby and Ginger have signed on, but don't expect an appearance from Posh.  Before any of you get bent out of shape, I wouldn't be eager to tour around and be away from Davide Beckham either #teamposh Full story HERE.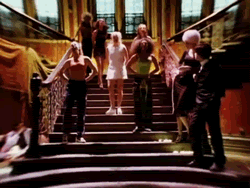 Meghan Markle is of course pregnant, and totally adorable.  So as a nice break in politics here is a picture of her just because.

As 
we have established
, time and time again, I watch too much TV.
What's on my list to watch next? Making A Murderer 2 (thanks to Jenny Gonzalez for this rec)
Have a suggestion? Let me know! 
Homecoming: (Amazon Prime) Julia Robert's new show is absolutely thrilling! The episodes are only 26 minutes which I absolutely love (remember I'm on a fast moving treadmill right now) and while I only just finished episode 4 it's all I can think about. Definitely worth the watch.
The Nineties: (Netflix) A documentary about everything that made the 90's great! The first two are about 90's TV- so obviously I am bias when I tell you MUST WATCH!
Idiocracy
a form of government in which a country or territory is run by fools
"My eyes are now wide open and now realize I've been used to spread messages I don't believe in. I am distancing myself from politics and completely focusing on being creative !!!"
Jimmy and Justin and Jessica, Oh MY! Who knows Justin best? #bff #hilarious #pineapple
Jimmy and Benedict Cumberbatch try not to laugh watching youtube clips